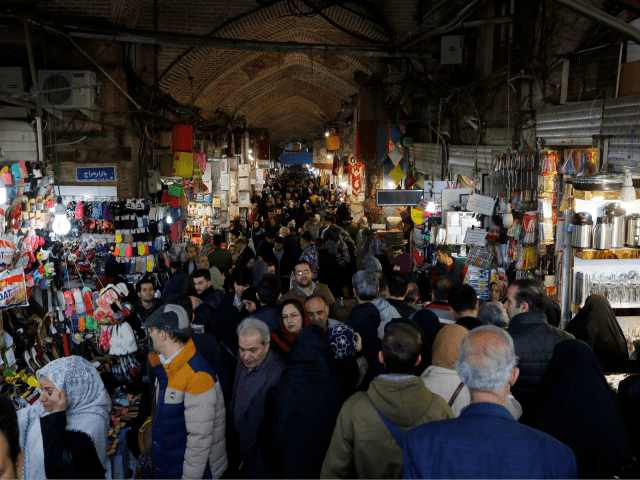 Iranian civilian protestors, in a surprising turn of events in the country, are taking to the streets to express opposition to the hardline ruling regime by chanting, "Death to Palestine" and "Leave Syria, think of us", according to an independent translation of videos showing the protests.
A group of protesters chant slogans at the old grand bazaar in Tehran, Iran, June 25, 2018.
The protest came after demonstrators in the Iranian capital swarmed its historic Grand Bazaar earlier in the day and forced shopkeepers to close their stalls in apparent anger over the Islamic Republic's troubled economy.
Videos posted to social media showed protesters at the bazaar heckling shopkeepers who refused to close, shouting in Farsi: "Coward!" Chants against that practice have been heard in frequent, small-scale anti-government protests across Iran since December, mostly outside Tehran.
The decision came after the Iranian rial plunged to a record low against the United States dollar on the unofficial market on June 24, continuing its slide amid fears of returning USA sanctions after President Donald Trump in May withdrew from a deal on Tehran's nuclear program.
As the crowd filed through the streets of the capital calling on others to join them, the size of the demonstration swelled into the thousands.
Authorities attempted to stop the currency's slide in April by combining the rial's black market rate with the official rate, but the decline continued.
A wave of demonstrations in December 2017-January 2018 rattled the regime and got global media attention, but there have been few major disturbances reported in recent months.
More news: Zimbabwe To Hold July Elections Despite Rally Attack
More news: Critics Rip NYT for Killing Audio Interview With Stephen Miller
More news: US Open Tennis to alter seeding following Serena's return
The head of Iran's Chamber of Guilds, Ali Fazeli, later was quoted by the Tasnim agency as saying the situation at the bazaar is calm.
"They (the U.S. officials) want to create fear in the hearts of the (Iranian) people by a psychological war and increase economic pressure through... imposing sanctions against banks", Abbas Jafari Dowlatabadi said during a meeting with a number of Iranian judges in Tehran on Sunday.
RFE/RL's Radio Farda reported that the protest at the bazaar began in a clothing market and soon spread to other markets - including a relatively more modern area where home appliances are sold.
The protest coincided with the Iranian rial weakening to a record low of 90,000 to the dollar on the black market in recent days.
"Their demands are delivered through the chamber to the government, and these are being pursued by us".
Iran will set up a secondary currency market by the next week, Central Bank of Iran (CBI) Governor Valiollah Seif announced on Monday.
Violence at those demonstrations, which continued into early January, left 25 dead and almost 5,000 people detained by authorities.