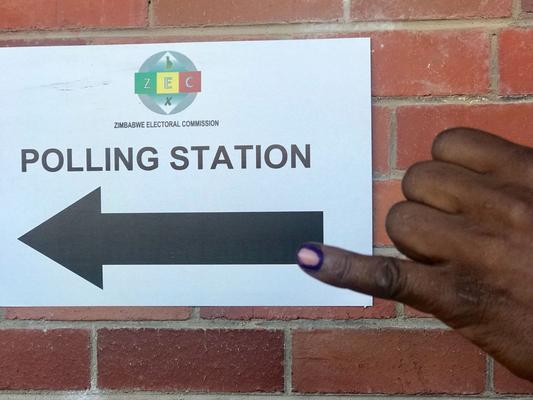 Masocha said the MDC Alliance supporters presumed victory for their leader based on false impression that Chamisa had countrywide support, when in reality, it was confined to the capital Harare, where it swept out the ruling Zanu-PF party.
This morning The Citizen reported that Biti had agreed to hand himself over to the Zimbabwean police amid claims that he had incited violence and hatred during protests in Harare on Wednesday, which culminated in the army opening fire and killing three people.
Zimbabwe's Electoral Commission said it was still counting ballots cast for Mnangagwa, 75, and Nelson Chamisa, his 40-year-old opponent.
Zanu PF national youth deputy secretary Mabutho Moyo said President Emmerson Mnangagwa made a lot of sense to a lot of people.
Zimbabwe's electoral commission says "sometime tomorrow (Thursday)" it will say when those will be announced.
Elmar Brok, head of the European Union observer mission, said there were "many shortcomings" in the election, but it was unclear whether they influenced the results.
Also speaking on VOA's Straight Talk Africa program, Den Moyo, chairman of the USA branch of the Movement for Democratic Change, said Wednesday's developments and the questionable results that sparked the clashes, have taken Zimbabwe backwards.
"What you see here is real support - not people being brought on buses like ZANU-PF does", he said.
Commonwealth election observers earlier criticized Zimbabwe authorities for "excessive" force.
The government says the army was deployed in central Harare to help police restore order. This gives it the power to change the constitution. "Are civilians the enemy of the state?" said Nkululeko Sibanda, spokesman for the Movement for Democratic Change, the main opposition party.
More news: Polar bear killed after attacking Arctic cruise ship guard
More news: US' welcome message for new leadership in Pakistan comes with a warning
More news: Apple is the first U.S. company worth $1 trillion
His Excellency Minister Augusto said that as part of its observation process, the SEOM engaged a wide range of stakeholders including state and non-state actors such as the Government of the Republic of Zimbabwe; Zimbabwe Electoral Commission (ZEC), Political Parties, Council of Chiefs, media, representatives of regional and worldwide organizations, academia, faith-based organizations; and civil society as well as persons with disabilities, women and youth.
President Mnangagwa blamed the MDC Alliance leadership for the "violence and hooliganism", and ordered it to recall its protestors.
A wounded man takes shelter in a market stall in Harare as protests turned violent. All we know for sure is that one of them is lying.
Results are still expected for the remaining 58 seats and for the presidential race.
The African Union mission has said the elections "took place in a very peaceful environment" and "were highly competitive".
Inevitably, perhaps, the riot police then the army arrived and they gradually retook the city centre by force.
We can expect the ZEC to announce the results by Friday or Saturday at the latest, but their website has been down since the upheaval yesterday.
A presidential candidate needs more than 50% of the vote to win outright.
A credible and peaceful vote was meant to end Zimbabwe's global isolation and draw in foreign investment to revive the shattered economy.