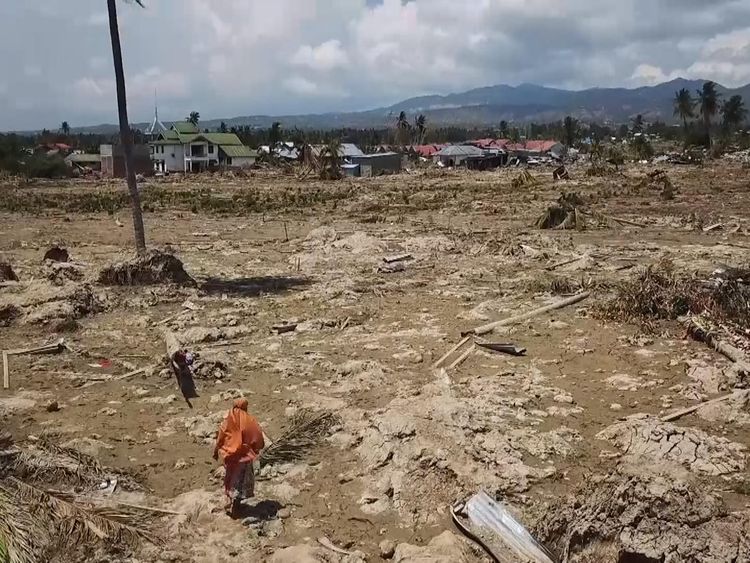 Rescue operations continue on Sulawesi island in Indonesia a week after a devastating quake and tsunami last Friday.
By Thursday, the official death toll stood at 1,424, but it will certainly rise as the bodies were still being recovered in Palu.
The 7.5 magnitude quake and a massive tsunami that followed killed more than 1,500 people, with scores more believed buried in deep mud and under debris of collapsed buildings and homes.
"Twelve people in this area haven't yet been found", Mohammad Thahir Talib told AFP.
While the power is back in Palu, it will take much longer for people to pick up the pieces of their lives.
The natural disaster has already claimed more than 1,400 lives and Bungay Rotary Club is attempting to raise money to send Shelterboxes to the impacted areas.
Global volunteers said many camps lack adequate sanitation, sparking fears of the spread of disease.
An airport damaged by the natural disaster in central Indonesia is expected to re-open to civilian traffic later Thursday.
More news: Naby Keita's fitness crucial to Liverpool's hope for victory over Manchester City
More news: US presidential test alert sets 225 million American phones buzzing
More news: Republicans aim to confirm Brett Kavanaugh this weekend
Responding to the developing situation, Indonesian President Joko Widodo issued an order to immediately restore the economy in Palu and fix the damaged infrastructure so as to secure distribution of logistics. "There is no such thing as looting", he said on a visit to Palu.
As the search for victims continued, aid workers raced to get shelter, food, medicine and other badly needed supplies to survivors.
The disaster agency said thousands were injured and tens of thousands - possibly hundreds of thousands - displaced from their homes and in need of emergency assistance.
Governments from Australia to Britain are flying in supplies, the United Nations has pledged $15 million to the relief effort, and aid groups including Save the Children and the Red Cross are also on the ground.
Global aid offers have picked up since Jakarta's belated request for help, with the UN's Central Emergency Response Fund announcing late on Tuesday that it was releasing US$15 million (RM62.11 million) in aid. Bank Indonesia was helping restore payment systems and some cash machines were working again in Palu as banks re-opened, he said. After days of initial chaos and looting by desperate survivors, some stability has returned to Palu, with shops slowly reopening and electricity restored in some parts of the city. "People everywhere want to go to the toilet, but there's no toilet".
"Logistics are in and continue to spread, there are places that we haven't reached", he said.
Indonesia and its 18,000 islands are located along the Pacific Ocean's "Ring of Fire" and are frequently struck by natural disaster, volcano and tsunami activity.