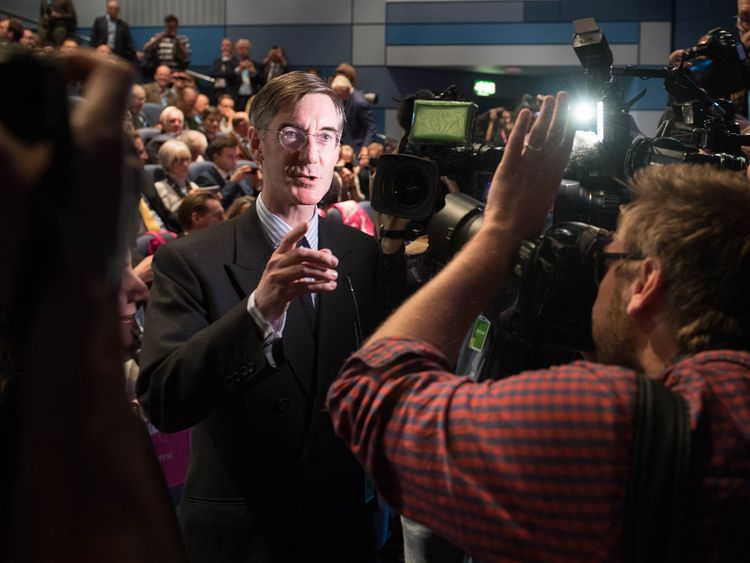 Theresa May has urged her fractious Conservatives to unite at a "pivotal moment" in the UK's history, claiming that a good Brexit deal and an end to austerity were within grasp in 2019 if the party stuck together.
The four-day conference has been dominated by divisions over Britain's impending departure from the European Union, with pro- and anti-EU camps both criticizing the prime minister's negotiations with the bloc.
Part of this appeal to the masses involved a shout-out to a diverse range of high-profile Conservatives: first, was Sajid Javid, who has just devised a plan to restrict immigration to all but the most skilled workers, and was almost in tears when May said "If your mum and dad arrived from Pakistan on a plane, you can become Home Secretary.' Then came a nod to Esther McVey, who used her own conference speech to say she was a 'Barnardo's child" as May said 'If you spent time in care, you can sit in the cabinet.' LGBTQ+ rights were also bigged up via the mention of Ruth Davidson, 'If you're pregnant with your first child and engaged to your girlfriend, you could be the first minister of Scotland'. Either way, the two sides will have to resolve the issue of the post-Brexit Irish border.
Liddle says it's no use Boris Johnson screaming blue murder about how the United Kingdom would be better off with a no deal Brexit, telling the European Union to get lost. Criticism from the left, such as Labour leader Jeremy Corbyn, is much to be expected - but May has also suffered sharp rebukes from fellow conservatives.
Joking about her disastrous speech previous year - when letters fell off the set and she had a coughing fit - Mrs May quipped: 'You'll have to excuse me if I cough - I've been up all night supergluing the backdrop'.
"And there's another reason why we need to come together".
Wednesday's speech was considerably smoother.
Jeremy Hunt, her foreign minister, said on Twitter: "Congratulations Theresa May for a remarkable speech delivered with humour and passion".
The pressure she is under from some in the party was underlined less than an hour before she was due to speak when Conservative lawmaker James Duddridge said he had submitted a letter calling on her to resign. Firmness of objective, clarity and conviction - European Union friends do not underestimate!
More news: Mauricio Pochettino praises Tottenham Hotspur 'heroes' for not giving in against Barcelona
More news: Mourinho demands Man Utd make public show of support
More news: Brewers fans wait in rain to welcome division champs home
In a conference where the policy agenda put forward by Corbyn and his shadow Cabinet has received more comment than ever before, May will attack her opposite number's leadership call for a return to decency in political discourse.
She began with a little dance after walking on stage to the sounds of ABBA s "Dancing Queen", one of her favourite tunes - a nod to her widely-mocked moves displayed on a recent visit to Africa.
"I was a party leader myself for 15 years and I know what the rules of party politics are, but now that the Tory party conference is over we should get down to business", Tusk declared.
"It is no surprise that we have had a range of different views expressed this week", she said. "When we've secured a good Brexit deal for Britain, at the Spending Review next year we will set out our approach for the future".
Mrs May and her team face weeks of hard conversations with Brussels to win a deal, but she also faces challenges from inside her own party and from her partners in parliament, Northern Ireland's Democratic Unionist Party.
Speculation is growing that London may accept some checks on goods passing between British-ruled Northern Ireland and the rest of Britain.
In her speech, Mrs May stuck to her plan, called the Chequers proposal after her country residence where she hashed out the proposals in July.
"This is our proposal: taking back control of our borders, laws and money". It delivers on the referendum.