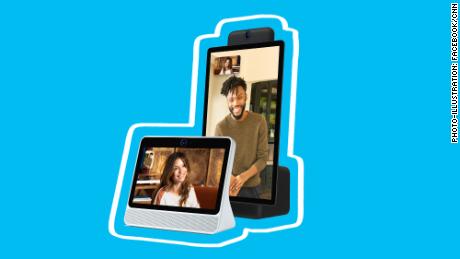 But Facebook says it has crafted its Portal gadgets, launched this week, to be as un-creepy as possible.
The $199 Portal looks similar to the new Echo Show with its 10-inch, 1280×800 touchscreen, but its speaker sits at the bottom edge, facing the user.
And Facebook seems to be putting privacy front and center for the Portal series, offering users additional features to protect their data.
As Facebook points out on the official Portal website, "Alexa features and functionality may differ slightly on Portal and Amazon devices".
Facebook is mostly marketing Portal devices as communication tools to talk with family and friends by video.
You will need to connect Portal to a Messenger account in order to video chat with friends. Designed specifically for video-calls, the hi-def camera has the ability to detect how many people there are in the room, and focus on them, panning and zooming on the subject's face as they move around.
More news: Facebook hoax hitting inboxes telling users their accounts been cloned
More news: Toddler shreds over $1,000 in cash after finding parents' stash
More news: Tusk: Brexit deal could be signed this year
But Portal has one big stumbling block to overcome: Facebook's brand. The cameras and the microphones in these two devices can be disabled with a switch. Portal will also have an advantage over Amazon and Google's smarthome devices, being able to call any smartphone that has Facebook Messenger installed. In Facebook's favour, beyond the price difference, is the fact that the company can hook Portal's videoconferencing features into Facebook and Messenger, two services that cover a substantial chunk of the human race between them.
Both models also include an internet-connected speaker that features Amazon's voice-activated digital assistant, Alexa. "We want to remove people from feeling that they are on a call - to the feeling of just being together", says Rafa Camargo, a Facebook vice president overseeing the product. When you are not video chatting, the display will scroll through your Facebook photos as well as photos you have been tagged in. Facebook has incorporating augmented reality (AR) effects - powered by their Spark AR platform - to make calls fun and interactive. You can ask the device questions by using the voice command, 'Hey Portal'. Facebook is one of the most untrusted companies when it comes to protecting or even being ethical with its user's data (it practically pioneered the quote "if you're not paying for it, you're the product"). In addition, video calls on Portal are encrypted.
Smart Camera stays with the action and automatically pans and zooms to keep everyone in view.
The Portal comes in two configurations: A $US200 ($283) model with a 10.1-inch 720p display, and the pricier $US350 ($496) Portal+, which features a larger 15.6-inch 1080p display that can rotate between portrait and landscape view. However, Amazon's and Google's smart displays do much more than make video calls-namely, they integrate with other services, many of which are unique to their parent companies. A recent Pew Research Center survey found that 74 percent of Facebook members in the US have in the past year taken a break, deleted the app from their phone or adjusted their privacy settings.
Not a lot of us trust Facebook. And to start the call, all it takes is: "Hey Portal". The device will allow users to disable the camera and microphone with a single tap and to lock it with a numerical passcode. The Portal does have a few apps, including Facebook Watch for video, and Spotify and Pandora for music.