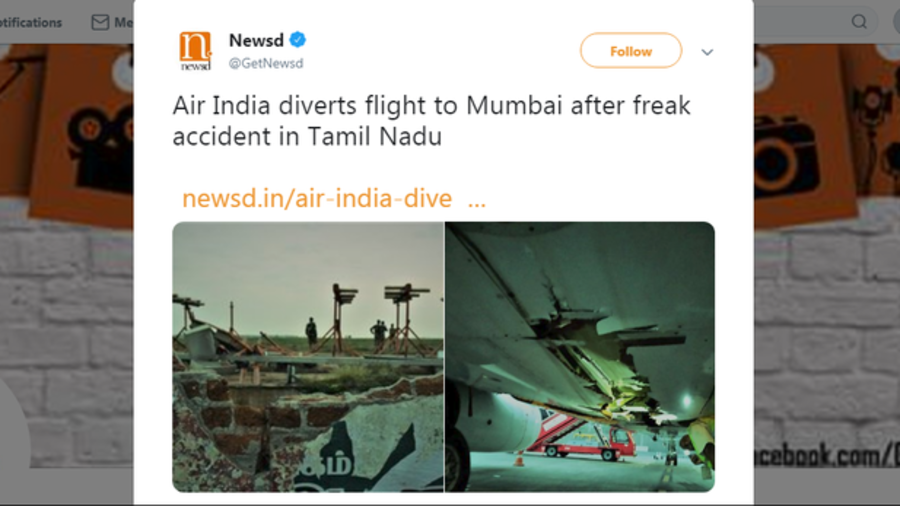 It was only after the aircraft was well into its flight path that Tiruchirapally Airport officials reported that the plane may have been damaged.
The fortunate passengers of Air India Flight IX 611 were moved to a different aircraft, which then took for Dubai with a fresh crew. The aircraft was en route over the Arabian sea about 900km west of Mumbai, in the Muscat airspace, when it was finally diverted.
Air India removed the pilots from duty pending the investigation.
Reportedly the Air India flight crushed the compound wall and ATC tower owing to the insufficient length of the runway.
Despite having sustained damage, the plane flew for at least three hours before landing.
More news: Klavan: Kanye West Exposes The Left
More news: We are fine, says Melania Trump as she dismisses gossip about marriage
More news: Facebook unveils Alexa (Soon Google Assistant) enabled Portal and Portal
Another flight was arranged to take the passengers from Mumbai to Dubai. The plane landed in Mumbai around 5.35 am.
The pilots - who had a combined flying experience of 6,600 hours on a Boeing 737 - reported that their aircraft systems were operating normally. An internal inquiry has been ordered and co-pilot has been de-rostered until the investigation is done. The first officer was captain Anurag, who has an experience of about 3,000 hours on the B737.
Realising the trouble and danger, the ATC alerted the Air Indian Express authorities and the Mumbai Airport. AI express has informed DGCA about the incident.
Chennai-based Air Passengers Association of India President Sudhakara Reddy demanded that the government take serious cognizance of the aviation safety incidents and upgrade the training and safety infrastructure accordingly.
Tamil Nadu tourism minister Vellamandi N Natrajan assessed the spot and said, "The airport authorities are assessing the situation here". A regular "safety compliance report" of all airlines will also be prepared by Government aviation agencies. Safety of the passengers is of paramount importance for us.