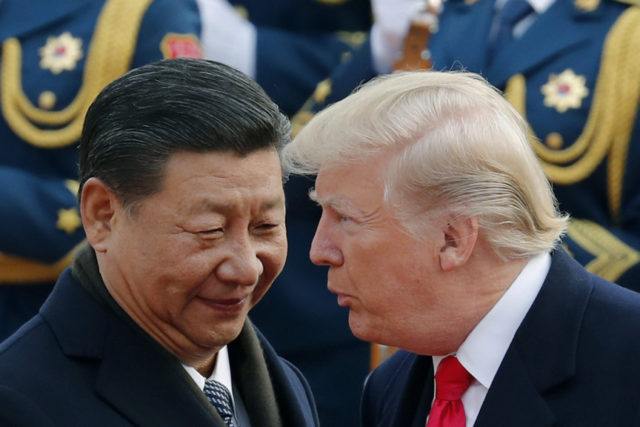 Early gains on Wall Street were wiped out by the closing bell last night after reports that the White House was preparing tariffs on all Chinese exports as early as December if talks next month fail to reach an agreement.
US Treasury Secretary Steven Mnuchin told Reuters earlier this month in Bali, Indonesia that China needed to agree to specific "action items" to rebalance the US-Chin economic relationship, open markets and change technology transfer, subsidy and currency policies.
Broad gains in the U.S. equity market boosted a measure of global stock markets on Tuesday after President Donald Trump said a "great deal" could be struck with China that would relieve fears of a growing trade war between the world's two largest economies. Boeing led declines in the Dow, with a plunge of nearly 6.6 percent. At one stage, the index was down by more than 550 points before ending the day 245 points lower.
The US has already imposed tariffs on $250 billion worth of Chinese goods, and China has responded with retaliatory duties on $110 billion worth of goods going the other way.
US stocks fell, with the S&P 500 flirting with a correction as technology shares tumbled after a report the Trump administration was set to press its trade war with China. During a daily briefing, Lu Kang, a spokesman for China's Ministry of Foreign Affairs, told reporters the USA should adopt a serious attitude and hold talks with China on the basis of equality and good faith instead of making other kinds of noises if it's honest about resolving trade frictions.
More news: Super Smash Bros. Ultimate Announces New "Spirits" Mode
More news: Frank Lampard left frustrated on Stamford Bridge return
More news: What to Expect From Apple's October Mac Event
That prospect now seems highly unlikely. We have really helped rebuild China.
The Washington Post notes that Trump on at least three occasions has blown up negotiations between his own trade officials and senior Chinese officials. They cautioned that final decisions had not been made. That took place in 1999 during negotiations for China's entry into the World Trade Organisation. Any reminders of that just leads to more pessimism.
The experience has been repeated this year.
Trump, says, however, he thinks there will be "a great deal" with China on trade. However, Trump overturned the deal a few days later on the grounds that it was not sufficient. On Monday, Trump repeated his assertion that China was not "not ready" to strike a deal to bring an end to the costly dispute.
"The ordinary and great people of China and the United States are there doing their part", he said, "showing their goodwill, wisdom and magnanimity, and paving the path forward for our relations". Since then, the two sides seem to have drifted farther apart.