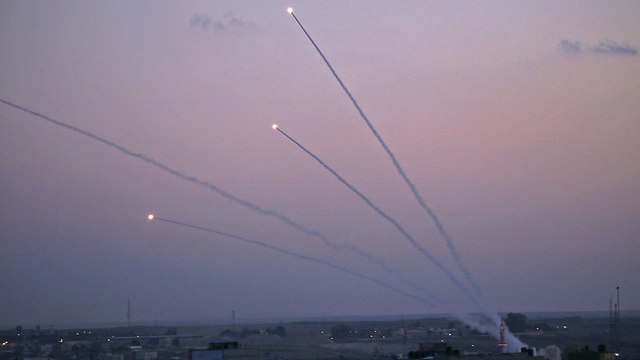 Palestinians in Gaza fired dozens of rockets at southern Israel on Monday and Israel launched retaliatory air strikes, a day after an Israeli incursion prompted deadly fighting in the enclave.
The frontier had been quiet earlier in the day after a botched Israeli undercover operation in Gaza led to fighting that killed a Hamas commander, six other Palestinian militants and an Israeli colonel.
The Qassam Brigades, the armed wing of Hamas group, also said the southern Israeli city of Ashkelon would be a target of rocket fire in response to Israeli attacks on civilian buildings in Gaza.
Several homes were hit and the military said Israel's Iron Dome anti-rocket system intercepted more than 100 rockets and mortar bombs.
Three Palestinian gunmen were killed in the air attacks. Qassam members discovered the vehicle and chased it, prompting Israeli airstrikes that killed several people, the group said.
A Palestinian Tuesday was killed and two others were injured in an Israeli strike that targeted a group of Palestinians in al-Shayma area in the town of Beit Lahiya, in the northern Gaza Strip, according to the ministry of health.
A 19-year-old Israeli soldier standing beside the bus was seriously injured when the Russian-made Kornet anti-tank missile hit.
More news: Duterte skips ASEAN summit events
More news: Gerard Butler volunteers to help victims of California wildfires
More news: California electrical company stock plunges after revealing possible link to devastating wildfire
Israeli Prime Minister Benjamin Netanyahu cut short a visit to Paris because of the flare-up and returned to Israel on Monday for consultations with top security officials.
The raid and the high-level casualties threatened to undermine efforts by Egypt and the United Nations to reach a long-term truce between Israel and Gaza and ease the dire humanitarian situation in the Palestinian territory, which has been under an Israeli and Egyptian blockade since Hamas seized power more than a decade ago. Warplanes also destroyed the premises of Hamas's Al-Aqsa Television, the Israeli military said.
Two were killed in a strike targeting a group near Aisha mosque east of Rafah, after Israel said it was targeting individuals that were members of "terror squad" launching rockets.
The spokesman for the Hamas military wing, identified only as Abu Obeida, said in a statement that Ashkelon "has entered the range of fire as a response to the bombing of buildings in Gaza".
Violent clashes have accompanied major protests along the Gaza-Israel border that began on March 30.
Witnesses said warning missiles, which carry small warheads, were fired first, hitting but not destroying the outer walls of the seven structures.