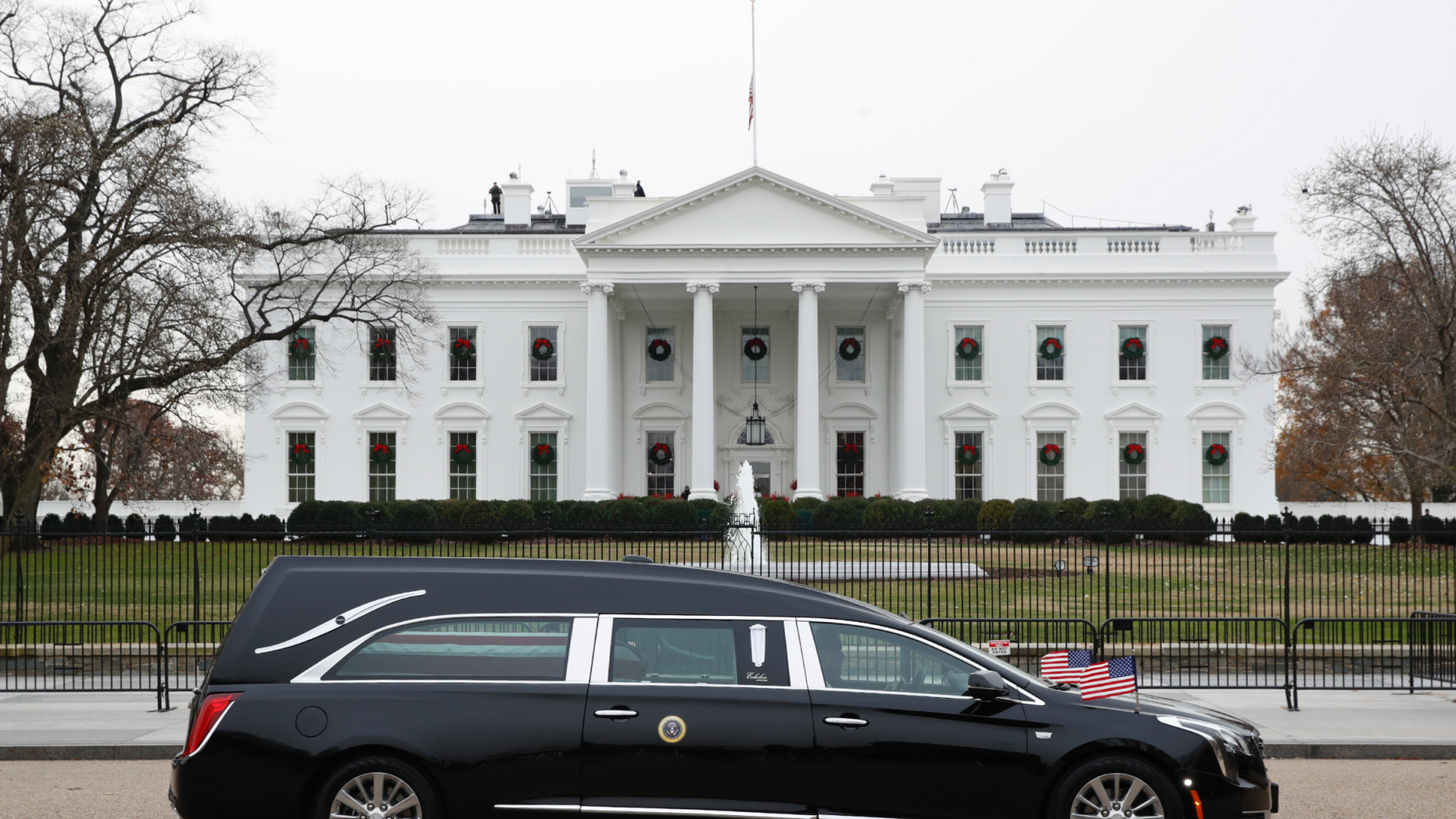 The White House said Saturday that President Donald Trump would declare Wednesday a national day of mourning for the country's 41st president.
Sully, the service dog of the late President George H.W. Bush, has been pictured lying beside his former owner's coffin.
USPS retail services and offices will also be closed.
Former first lady Laura Bush said her tour of the White House Christmas decorations Tuesday made for a "sweet visit" during a somber week.
11 a.m. ET - Arrival and funeral at Washington National Cathedral.
Fred Curry, one of the few African-Americans in line, is a registered Democrat from Hyattsville, Maryland, who voted for Bush in 1988, the election won by the one-term president.
More news: Fed's Powell, in apparent dovish shift, says rates near neutral
More news: Alarm raised as HIV rates on rise
More news: Packers fire McCarthy following loss to Cardinals
CNN used the event to assume the worst of the president and proceeded not to focus on remembering the life of Bush, but instead focus on attacking the president, more specifically, his character.
"I'm just here to pay my respects", said Jane Hernandez, a retired physician. "So we got quite a lot done". The coffin will be flown from Texas to the Capitol on board Air Force One, and then back on Wednesday, and Sully will be there every step of the way.
Dole received a Bronze Star and Purple Heart for his service in the 10th Mountain Division in World War II, before going on to serve as a congressman and a senator.
Bush's son George W. Bush, who became president eight years after his father left office, will be among those delivering eulogies at the funeral. Bush will also be laid to rest next to Robin Bush, the family's 3-year-old daughter Pauline Robinson Bush, who died of leukemia 65 years ago.
After services in Washington, there will be another funeral in Houston on Thursday, followed by burial at the Bush Presidential Library in College Station, Texas. Many banks and other businesses also will shut down, and government buildings are flying flags at half-staff until December 30.