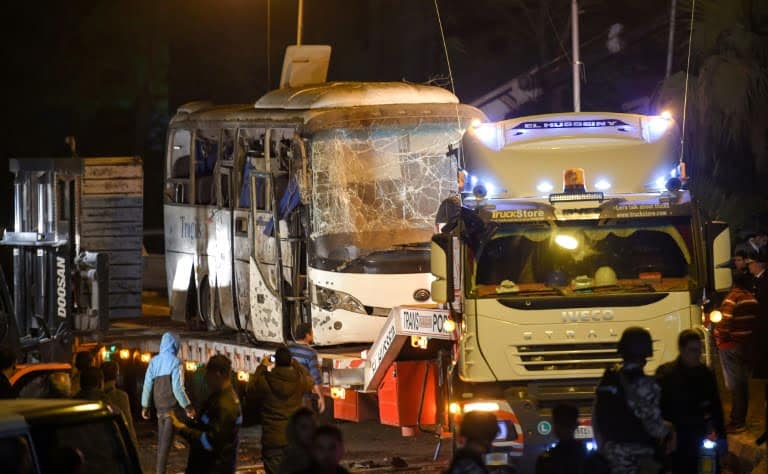 This is Egypt's first attack against tourists using explosives since late 2015, when a bomb blew a Russian airliner out of the skies above the Sinai peninsula, killing all 224 people aboard.
The bomb went off at about 18:15 (5.45am this morning NZ time) on Maryoutiya Street in Giza's Haram district, the interior ministry says.
Lan Le, 41, who was on the bus but unhurt, said they were going to see a sound and light show at the pyramids.
No group took immediate responsibility for the incident. "Two Vietnamese visitors died when the homemade device ripped through the bus after it was concealed behind a wall".
The PM said that the number of injured still under treatment stands at 10 with two in critical condition.
More news: Iraqi lawmakers criticise Trump visit as blow to Iraqi sovereignty
More news: What's open, closed for Christmas?
More news: Trump loses United States envoy to anti-IS coalition over Syria plan
"The DFA today advised Filipinos planning to travel to Egypt to exercise a higher level of vigilance when visiting tourist destinations there", the agency said in a statement.
The Prime Minister announced that the death toll, which was initially set at two Vietnamese tourists, had risen to three after the representative of the tour company on the trip succumbed to his injuries.
What do we know of Friday's attack?
It said that 10 were seriously injured.
Egypt has for years been battling an Islamist insurgency in North Sinai, which surged following the 2013 military ouster of president Mohamed Morsi.
In July 2017, two German tourists were fatally stabbed by a suspected jihadist at the Egyptian Red Sea beach resort of Hurghada.