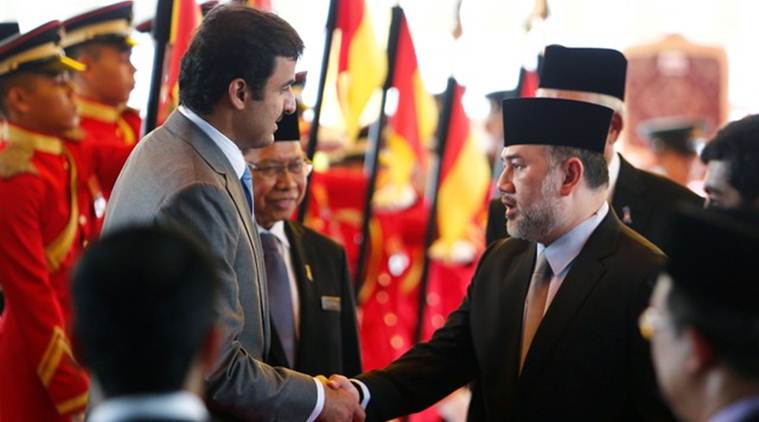 Sultan Muhammad V is stepping down immediately as the 15th King of Malaysia after serving since December 13, 2016, according to a statement from the palace on Sunday which gave no reason for the abdication. In recent months the Monarch has taken medical leave and married a Russian former beauty queen, although the marriage has never been confirmed by Malaysian palace officials.
No reason was given as to why Sultan Muhammad has stepped down.
Comptroller of the royal household, Wan Ahmad Dahlan, told Channel NewsAsia that the 49-year-old king had officially notified the Malay rulers about his abdication through a letter sent to the secretary of the conference of rulers.
Mahathir, known for challenging royalty during his earlier 22-year tenure as prime minister, said in a blog post last week that everyone "from the Rulers to the Prime Minister and Ministers, to the civil servants and ordinary citizens" is subject to the law.
"We Malaysians pray that you will always be granted health and protection by God", ex-premier Najib Razak wrote on Facebook.
But the succession may not be as straightforward this time as the next in line to the throne, Sultan Ahmad Shah of Pahang state, is elderly and reported to be ailing.
The king's role is largely ceremonial, as most of the authority to govern is held by the prime minister and cabinet.
More news: HSE issues warning over serious new flu strain
More news: Bulls Waive Cam Payne, Want To Find New Destination For MarShon Brooks
More news: Phillies in Process of Setting Up Meeting With Bryce Harper
For the first time in the country's history, Malaysia's king has abdicated.
The palace has also said that the king is preparing to return home to the state of Kelantan.
From the meeting, the conference appointed the Deputy Yang Dipertuan Agong, Sultan Nazrin Muizzuddin Shah - the Sultan of the northern state of Perak - as the acting Agong pending the election of a new one.
The rotating monarchy system has been in place since independence from Britain in 1957, and Sultan Muhammad V is the first monarch to have renounced the throne.
Malaysia's Islamic rulers will now meet to decide on the next king. The king's assent is needed for the appointment of a prime minister and various senior officials.
Muhammad V was previously married to a member of another Malay royal family in 2004 but the couple divorced in 2008. The third sultan who was not present was King Muhammad.